Just before the start of the season, we were lucky enough to win a competition to become OAFC's back of shirt sponsor. As part of our winnings, we were given a season ticket. We decided that we would give the ticket to one lucky OAFC fan, along with an OAFC shirt and a brand-new laptop, courtesy of us.
We invited OAFC fans to following us and OAFC, share the post and tag a friend who deserved to win to be in with a chance of winning the prizes.
By the time the competition ended on September 25, we had loads of entries. The winner was selected by OAFC midfielder Callum Whelan and announced at the Boundary Park ground.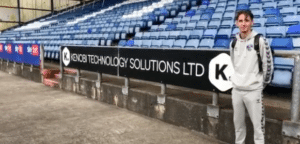 OAFC player Callum Whelan announcing the winner via Kenobi social channels
Our winner was designer Sam Corry – an OAFC fan for 31 years. Sam, from Royton, Oldham, was tagged by her friend in the competition and was shocked to discover she had won all three of the prizes.
She said: "My friend tagged me in the competition after I had tagged her. I thought it was just for a season ticket and the other prizes were for 2nd and 3rd place.
"When I realised I'd also won a laptop and shirt I couldn't believe it. I never usually win anything!"
"The prizes were a very welcome surprise as my laptop has seen better days, my season ticket hadn't been renewed due to affordability, and the signed shirt was a lovely surprise for my nephew who has been attending games since he was 18 months old.
"The first OAFC game I went to was the start of the amazing cup run which eventually saw us reach Wembley. A day never to forget, other than the narrow defeat. After that we were hooked and experienced some fabulous times, especially winning the league which got us promoted to the Premier League."
We realise that times are tough for people at the moment, so we wanted to play our part and make someone's day. We'd like to thank everyone who entered the competition and we hope Sam enjoys her prizes.
As well as sponsoring the back of the first team shirts for the 20/21 season, we also sponsor new Oldham Athletic head coach Harry Kewell and his backroom staff along with the social media for the club too.